NEW
DISCOUNT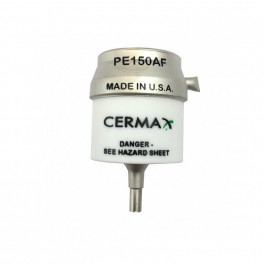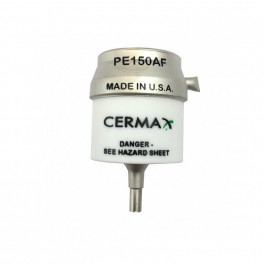 Display all pictures
LuxteL CL300BF 300W Ceralux - Xenon lamp
Reference: PE150AF
Original Excelitas PE150AF 150W CERMAX - Xenon Endospope Bulb. This 150 watt cermax xenon lamp is a replacement lamp for Olympus, Storz and other equipment.
PE150AF 150W CERMAX is commonly used in diagnostic and surgical endoscopes in most major hospitals worldwide. The PE150AF is the smallest lamp in the Cermax® portfolio.

The PE150AF features high-intensity illumination - 1,350 Lumens, with a power range of 100-150 Watts. Lamp lifetime is 1,000 hours. The PE150AF has a broad spectral range with 5,900 Kelvin color temperature, all in a compact size.
Specifications:
Reflector Type: Parabolic
Body Type: Ceramic
Total Visible Output: 1350 Lumens
Power - Nominal: 150 Watts
Power - Range: 100-150 Watts
Current - Nominal: 11 Amps (DC)
Current - Range: 10-14 Amps (DC)
Ignition Voltage: 23-30 kilovolts (system dependent)
Operating Voltage - Nominal: 11.7 Volts (DC)
Operating Voltage - Range: 10-13.6 Volts (DC)
Lifetime: 1000 hours typical
Temperature: 120° C (maximum)
Radiant Output: 16 Watts
UV Output (<390 nm): 0.9 Watts
IR Output (>770 nm): 8 Watts
Warranty: 500 hours or 1 year, whichever comes first