NEW
DISCOUNT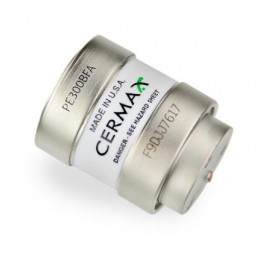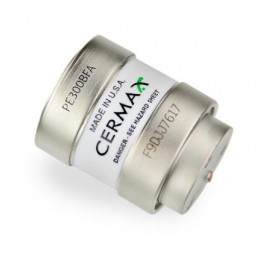 Display all pictures
LuxteL CL300BF 300W Ceralux - Xenon lamp
Reference: PE300BFA
Original Excelitas PE300BFA 300W CERMAX - Xenon Endospope Bulb. This 300 watt cermax xenon lamp is a replacement lamp for Olympus, Fujinon, Storz and other equipment.
This 300 Watt Xenon lamp is commonly used in diagnostic and surgical endoscopes in most major hospitals worldwide.
The PE300BFA features high-intensity illumination - 5,000 Lumens, with a power range of 180-320 Watts. It has a broad spectral range with 5,900 Kelvin color temperature, and a lamp lifetime of 1,000 hours.
Specifications:
Reflector Type: Parabolic
Body Type: Ceramic
Total Visible Output: 5000 Lumens
Power - Nominal: 300 Watts
Power - Range: 180-320 Watts
Current - Nominal: 21 Amps (DC)
Current - Range: 10-22 Amps (DC)
Ignition Voltage: 23-35 kilovolts (system dependent)
Operating Voltage - Nominal: 14 Volts (DC)
Operating Voltage - Range: 13-16 Volts (DC)
Lifetime: 1000 hours typical
Temperature: 150° C (maximum)
Radiant Output: 50 Watts
UV Output (<390 nm): 2.6 Watts
IR Output (>770 nm): 29 Watts
Warranty: 500 hours or 1 year, whichever comes first
Equipment:
3D Scope 300w Xenon
3D Scope 300w Xenon
ACMI/Circon ALV1
ACMI/Circon MV9086
Acufex FRX300
Acufex FRX3000
Acuity A09501
Acuity A09502
Acuity 13845
Acuity AO9501
Acuity AO9502
Acuity Ultralife
Aculux 300w Xenon Headlight
ALM MTA Starpointe XE
Applied Fiberoptics Britelite III
Baxter V. Mueller VS5500
Baxter V. Mueller VS5600
Baxter/Edwards/LLS Optx300
BEI/Xylog 300w Xenon
BFW Maxenon Xi300
Burton Xenalux Headlamp
Burton Xenalux Illuminator
Cabot Medical 3000 Video
Cabot Medical System 3000
Concept 8170
Concept 8180
Concept 8430
Concept 8431
Cooper Surgical Endomed LSS700
Dyonics/Smith & Nephew Dyo-Bright 300XE
Endolap FOI 160000
Endolap S605-25
Endolap Foi-16000
Endomedics S1500
Envision 9430
FPO Y1089
Fujinon EPS-301
Fujinon EPX-302
Fujinon EPX-304
Fujinon EPX-401
Fujinon FLX-2000
Fujinon FLX-300
Fujinon FLX-300a
Fujinon FLX-300f2
Fujinon FLX-600
Fujinon XL-4400
Fujinon (FPO)/Fujikara EPC301C
Fujinon (FPO)/Fujikara EPX301A
Fujinon (FPO)/Fujikara EPX304
Fujinon (Fpo)/Fujikara Epx401
Fujinon (FPO)/Fujikara EXP302
Fujinon (FPO)/Fujikara FLX 600
Fujinon (FPO)/Fujikara FLX2000
Fujinon (FPO)/Fujikara FLX300A
Fujinon (FPO)/Fujikara FLX300F
Fujinon (FPO)/Fujikara FLX300F2
Fulton Denta Cam Inta Oral
Fulton Denta Cam Intra Oral
Getinge Castle-Alm Starpointe XE
Kay Swallowing Workstation
Laborie 300w Endoscope
Leica F.O. Illuminator
Leica M520 OH3
Leica M720 OH5
Leisengang LMS-3000 Illuminator
Linvatec 8170
Linvatec 8180
Linvatec LIS8430
Lorenz Lumenon Xenon Headlight
Luxtec 9300
Luxtec 9300XSP
Luxtec LX-300
Luxtek 7000
Luxtek 8000
Luxtek 9000
Luxtek 9300
Luxtek LUX 9000
Luxtel Isolux XSB 300 Illuminator
Machida RX-300T
Medical Dynamics 6100XE
Medical Dynamics 6600XE
Mist 300w Xenon F.O. Endoscope Illuminator
Mist 300w Xenon
Mitsubishi LS-3-S
Mitsubishi LS-3-X
Mitsubishi LS300X
Nextec 1300
Olympus CLV-S40
Olympus CLVS20
Olympus CLVU20
Olympus CLV
Olympus CLV160
Olympus CLV180
Olympus CLVS
Olympus CLVS40
Olympus CLVSBO
Olympus CLVU20
Olympus CLVU40
Olympus ILX-6300
Olympus MD631
Olympus CLV10
Olympus CLV20
Olympus CLVA
Olympus CLVF10
Olympus CLVS20
Olympus CLX
Olympus CV1
Olympus ILX6300
ORC 5800
ORC 5800E
ORC 6000
ORC CIA
ORC CIO
ORC CIS
ORC CIT
ORC CIW
Pentax EPM-3000
Pentax EPM-3300
Pentax EPM-3500
Pentax LX-3000
Pentax EPM3000
Pentax EPM300P
Pentax EPM3300
Pentax LX300
Pilling Endoscopy
Pilling Fiber Optic
Pilling Weck 300w Xenon Illuminator
Products For Medicine White Sun 300w
Products For Medicine XL300
Qed 3010 300w Light Source
SLM Aminco SPF500C
Smith & Nephew Dyonics 300XL
Smith & Nephew Dyonics 500XL
Smith & Nephew Dyonics Dyobrite 3000 XE
Snowden Pencer Xenon L/S 300w
Snowden Pencer L/S
Storz 201330-20
Storz 201331-20
Storz 487B
Storz 611
Storz 300
Storz 487C
Storz 487XE
Storz 610
Storz 610C
Storz 610XE
Storz 611C
Storz 611XE
Storz 630
Stryker Quantum 6000
Stryker Quantum X6000
Sunoptics Cuda Solarmaxx 300 SSX300ST
Sunoptics Cuda Titan 300 TITAN300ST
Sunoptics Cuda XLS300
Templar XIV-300
Toshiba Tre-3000
TTI/Tagarno 35ax Acubeam
V. Mueller/Baxter GS9205
V. Mueller/Baxter LA8000
V. Mueller/Baxter Opsis VS5500
V. Mueller/Baxter Opsis VS5600
Vanguard XR-300
Vanguard XR-350
Vanguard XR300
Vanguard XR35
Vanguard XR350
Vanguard XRM-4
Video Dynamics XLC-300
Video Dynamics XLC300
Vitalcor Applied Fiberoptics Britelite III
Weck FRX2000
Weck Wecklite 1300
Weck Wecklite 300
Welch Allyn Proxenon 350 Surgical Illuminator
Welch Allyn VP2000
Welch Allyn VP3
Wolf 5131
Wolf 5151XE
Woodbine Solos GS9255
Woodbine Solos GS9272
Zeiss Superlux 300
Zeiss Superlux 301